Cantilever Loading Platforms
Our fully-retractable platforms allow delivery of large bulky materials directly from truck to floor without slowing down the elevator.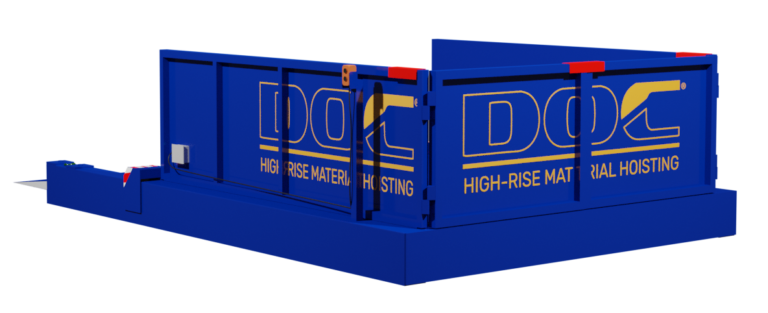 A drawer for delivering bulky materials on any floor of the building.
Working like drawers, DOC Loading Platforms allow hook access to any floor of a high-rise construction building.  With a 4-ton load capacity, DOC Loading Platforms can handle larger, heavier loads than a construction elevator.
Contractors save valuable time moving materials using the tower crane or DOC Material Hoist, instead of bogging down the elevator.
Our DOC Loading Platforms are the only fully retractable platforms on the market, and can be installed in almost any concrete or steel-framed building.  Installing and relocating DOC Loading Platforms has never been easier, and can be accomplished with a DOC Material hoist, tower crane, or mobile crane in about 10 minutes.
The DOC Loading Platforms are available in 6.5 and 9.0 feet wide, and 10-12 feet of extension.  All platforms are powered by a simple 110V AC outlet.
"DOC Loading Platforms have become an essential tool on any high-rise construction site. With the DOC on site, it's much easier to stay ahead of schedule and under budget. Hard to imagine how we used to do without it."
Our products are built with quality steel and precision right here in America, with a Service and Support team built to match.
Ready to supercharge your high-rise construction project?
Just provide us with a few details to get started…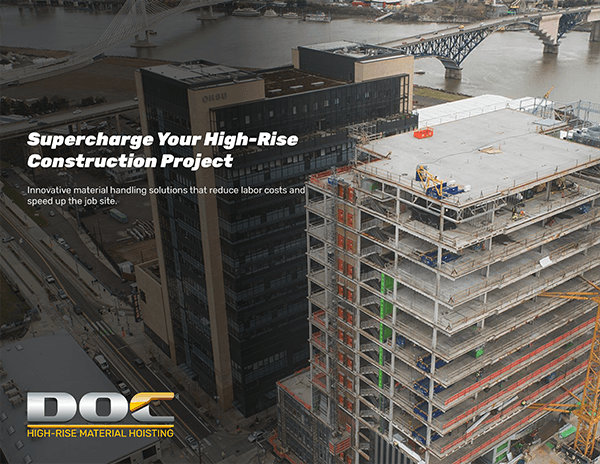 Download the DOC® Brochure
Our PDF brochure contains key features of the full line of DOC hoisting products, and includes detailed engineering specifications to go over with your team.